Imagine 5 networks in one perfectly-formed, same-small-foot-print-as WiPy and LoPy, IoT development board. MicroPython enabled. FiPy includes WiFi, Bluetooth, LoRa, Sigfox and dual LTE-M (CAT M1 and NBIoT) the FiPy gives access to all the world's LPWAN networks on one tiny board.
Note: The Fipy works for all CatM1 and NB-IoT bands worldwide. We strongly recommend ordering an LTE-M Antenna for best performance.
Get on with a board that gives you full flexibility during testing, install, deployment and even later when you want to switch real-time your airtime network provider. You can switch when the time is right for you or set some parameters that will do so automatically.
Technical Details
Weight

G.W 31g    

Battery

Exclude

Processing:

Espressif ESP32 SoC

Dual processor and WiFi radio system on chip

Networking processor handles the WiFi connectivity and the IPv6 stack

Main processor is entirely free to run the user application

An extra ULP-coprocessor that can monitor GPIOs, the ADC channels and control most of the internal peripherals during deep-sleep mode while only consuming 25uA

Interfaces:

2 x UART, 2 x SPI, I2C, micro SD card

ANalog channels: 8×12 bit ADCs, 2×8 bit DAC

Timers: 2×64 bit with PWM with up to 16 channels

DMA on all peripherals

GPIO: Up to 22

Hash / Encryption

SHA, MD5, DES, AES

WiFi Networking

802.11b/b/n 16mbps

Bluetooth

Low energy and classic RTC

Running at 32KHz

Range

Node range: Up to 50km

Security & Certifications:

SSL/TLS support up to 1.2

WPA Enterprise security

AES encryption engine

Memory:

RAM: 4MB

Flash Memory: 8MB

GPIO: Up to 22

Hardware floating point acceleration

Python multi-threading

Power:

Voltage Input: 3.3V – 5.5V

3v3 output capable of sourcing up to 400mA

Pycom modules are powered by the NEW and FEATURE PACKED Espressif ESP32 chip. As a result our firmware is evolving constantly as the ESP32 IDF matures. Regular firmware updates are therefore provided.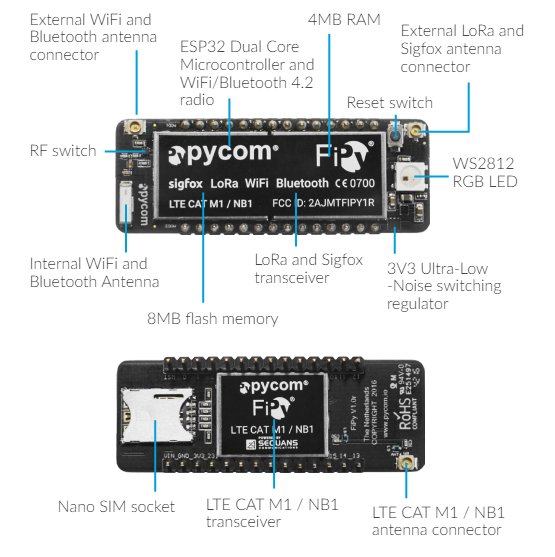 Documents
Images and contents from Seeedstudio