Omega2 is a personal single-board computer created by a startup company called Onion, released on Kickstarter. The system combines the tiny form factor and power-efficiency of the Arduino, with the power and flexibilities of the Raspberry Pi and is identified with FCC Identifier 2AJVP-OMEGA2. It runs Linux kernel based lightweight operating system for embedded system called OpenWRT.
Features:
Omega2 board is tiny so that it can easily fit into your DIY project or commercial product. It is less than 1/4 the size of the Raspberry Pi, and less than 1/3 the size of the Arduino Uno.

The Omega2 has integrated Wi-Fi and on-board flash storage. This means that it springs to life the moment you power it on. You don't have to worry about buying Wi-Fi dongles or installing operating system images onto external SD cards.

Using the Omega2 is just like using a desktop computer. There are simple and intuitive apps for you to interact with the Omega2. There is an App Store where you can discover even more apps!For the more adventurous, you can even build apps with SDK and publish them on the Onion App Store to share with the world :)

It is a full computer running Linux which even runs Apache. The Omega2 also runs FreeBSD!

Supports most of the Programming languages like: Ruby, c, c++, python, php, nodejs.

The Omega2 is seamlessly integrated with the Onion Cloud. This allows you toremote control it from anywhere in the world with intuitive Web UI or RESTful APIs. You can also view the status of your Omega2 in real-time, and deploy software updates to it when it is in the field. Using the Omega2 with the Onion Cloud is optional.

The Omega2 is easily expandable. There are a whole lot of expansions so you can add capabilities to it through simple plug-n-play.

The Omega2 is designed for connectivity. It has Wi-Fi built in, and there are expansion boards so that you can easily add Bluetooth, Cellular, and GPS to your projects.

The Omega2 can be easily added to your existing Arduino projects. There is an Arduino Dock so that you can make use of your existing Arduino shields.
Applications:
Home Automation

Learn to Code

Create Digital Arts

Wifi Media Server

Streaming Music

Robotics

Networking Stuff
Specifications:
3.3V Power

0.6W Power Consumption

PCB Antenna w/ uFL Connector

2.4Ghz - 802.11 b/g/n Wi-fi

28.2mm x 42mm (1.1″ x 1.7″)
.
Comparison Chart: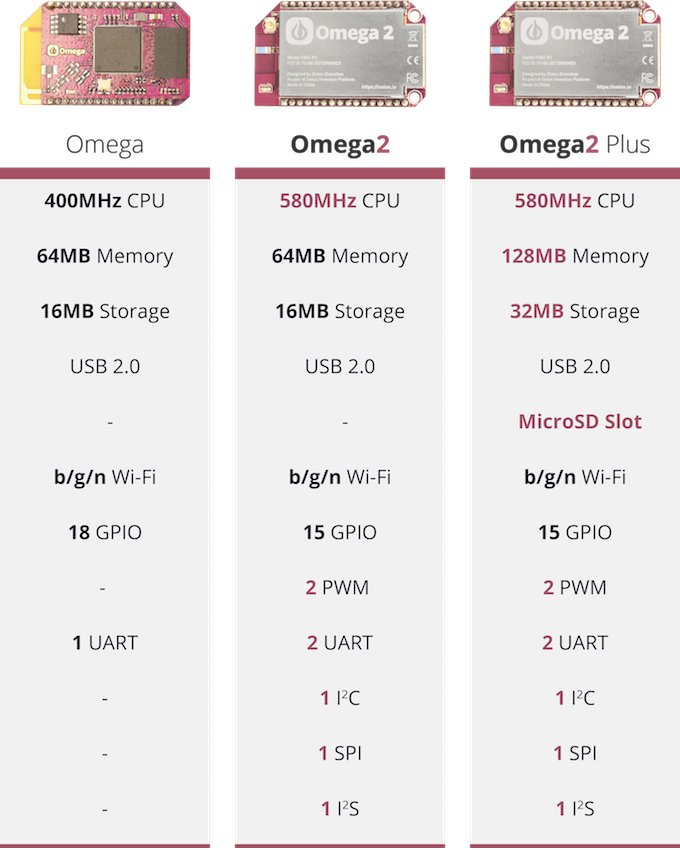 Pinouts: